Today, Snapchat is one of the fastest growing mobile messaging and social media networks in the world. The app was originally launched in 2011, allowing its users to send temporary photo messages to one another.

From day one, Snapchat was purely mobile. That meant that developer efforts would always be aimed at creating a better mobile experience for users, and that's it.

In making their mobile app as user-friendly as possible, Snapchat may have stumbled upon a bit of an unintended mobile advertising leadership role. As it turns out, the things that make users engage with Snapchat, are often the things that make mobile users engage with advertisements, anywhere.
Trend by Default
It took a bit of time for Snapchat to get where they are today. They've made plenty of advancements over the years, all favoring their vertical interface, and all, for the most part, favoring advertisers.

As we previously mentioned, Snapchat launched in September of 2011. For the first year of its existence, the app only let users send photos, with minor editing abilities.

Allowing users to draw-on and make fun edits to photos was their first step in driving further engagement with their product.

In December of 2012, video messages were introduced to the app.

In October of 2013, "Stories" were introduced. Here, users can create a more extensive message for their followers. It is simply a string of connected individual Snapchat's, that appear in chronological order.

In July of 2014, they added Geofilters - filters, frames, and artwork that can be added to Snapchat photos based on a user's location.

Shortly after, in August of 2014, a "Live" section was added to the app, for users to follow live events in a series of Snap videos.

By mid-2014, Snapchat had upwards of 50 million daily users.

At this point, everything was falling into place for advertisers to enter Snapchat's vertical interface. The road was built and paved, simply waiting to be driven on.

Snapchat ran its first ad in October of 2014. It was a 20-second video trailer ad for the movie "Ouija."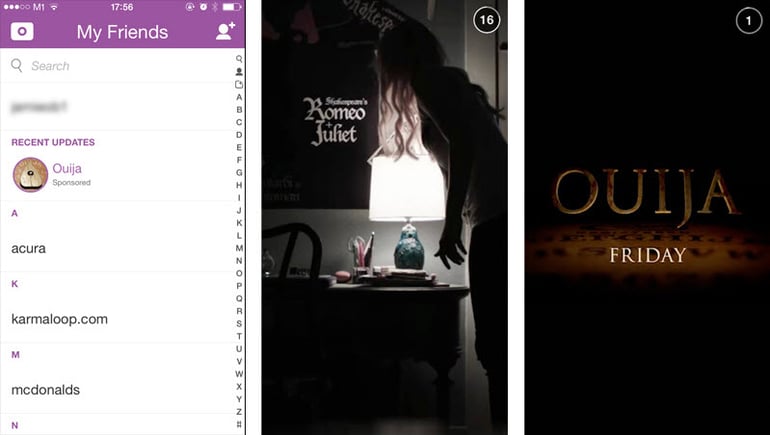 Regardless of their intentions, all of Snapchat's advancements leading up to their first ad, were all advancements that benefitted mobile advertisers. After their first ad ran, they've continued to make strides in making their vertical interface the best possible experience for both users and advertisers.

The "Discover" section of the app is the best example of how Snapchat is optimizing their app for users, publishers, and advertisers. The section, consisting of publisher content, videos, and ads, was recently separated from the user-messaging portion of the app. This allows users to have a personalized experience, while allowing publishers to gain more attention from users.
Social Media: Mobile Advertising Leaders
In fact, all social media platforms have led the charge in mobile innovation, due to their heavy and necessary reliance on mobile user experience.

Facebook, Twitter, Instagram, and Snapchat, all with differing interfaces, all conducted their own research for their own audiences, while indirectly collecting research that would eventually be extremely useful for mobile advertisers in general.

It's a tale of two groups with the same initiatives - driving engagement. With such a universal and large number of users, however, social media networks provided an extremely broad level of information for the industry as a whole.

As these social media companies began to implement new features to further engage users, those tactics began to bleed out into other formats.

For Snapchat, specifically, their main contribution to the digital landscape has been vertical video.
Vertical Innovation
Snapchat is and always has been a vertical interface. Even though vertical video has only caught on more recently throughout the advertising industry, Snapchat has been incorporating the ad format since 2014.

The very first Snapchat ads simply ran straight, until the ad concluded, or until the user tapped out of the ad (see "Ouija" example above). As time passed, however, advertisers were able to put more and more into their video ads.

Snapchat has essentially turned vertical video into a means of pushing brand messages and content to users in more fun, more engaging ways.

Swipe Up
Snapchat's "Swipe Up" feature on videos essentially works as a click-through for users. They are offered a quick video (3-10 seconds), and while that video is rolling, they are presented with the option to swipe up, to move forward to more extensive content, like articles or lengthier videos.

Engagement
Brands now have the opportunity to send their videos to something fun - something truly engaging.

Snapchat ads have had incredible viewership at times, quite literally engaging users directly, while serving them a brand message and/or publisher content.

Furthermore, with Sponsored Lenses and Geofilters, brands have plenty of options to engage their target audience.

These advancements have set the stage for the potential future of vertical video ads on every other mobile platform. And with Snapchat now being a publicly traded company, we may start to see these innovations popping up elsewhere (yes, we're looking at you, Facebook).
The Future of Vertical Video
Todd Krizelman, founder and CEO of MediaRadar, believes that the overall use of vertical video will rise sharply in the coming year and on. It's become evident that the trend is catching on outside of Snapchat.

As they were in the past, this could be another scenario where Snapchat is simply a few steps ahead of the rest of the industry. They implemented vertical video ads in 2014, and only now is the format picking up momentum. Perhaps their advancements within vertical video simply need a few more years to surface elsewhere.

As ads get shorter and videos taller, vertical video will likely see an industry-wide increase, as mobile users grow an affinity towards them. In the meantime, we'll sit back and wait for Snapchat's next vertical innovation.