For digital publishers and their advertisers, seamlessly integrated ads are the most effective way to generate returns.

Typically, when we discuss integration in advertising, we are referring to an overall ad strategy - when a brand creates a cohesive plan across multiple media formats (TV, online, print, etc.). In this case, however, we're going to dive a little deeper.

We're going to discuss how ads can be seamlessly integrated, not only into individual web pages, but also into the lives of consumers.
What is seamless integration?
Seamlessly integrated digital ads are the ones that, without disruption:
Sit alongside content that fits into the media consumption habits of the publisher/advertiser's shared target audience

Fit into the content they're surrounded by
As you can see, being seamlessly integrated means fitting in, blending in, and so on. A seamlessly integrated ad flawlessly co-exists with the content it's surrounded by.
What does seamless integration look like?
Let's run through an example…
The Publisher

Quartz (QZ) is a news website owned by The Atlantic. According to Brian Dell of Quartz, the first step off effective advertising is "identifying and understanding your audience."

Quartz does a "global business executive study" every year, to gather information around the media consumption habits of their target audience. Integrating with audience consumption patterns requires a multi-touchpoint approach.

Knowing how and when your audience is viewing content will have a massive impact on what you produce.

So, Quartz asked themselves...
"If you close your eyes and think about a global business exec waking up in the morning, what's the first thing they reach for?"

The answer, of course? Their smartphones.

What they discovered, was that, when business executives look at their phone, their first action is typically to open their inbox. QZ's way of meeting that need?

Deliver all of their content as something that shows up in your inbox, in the form of a Daily Brief.

This went beyond ensuring that their site was mobile-optimized. The content itself had to change. First thing in the morning, people typically don't have time to read multiple full-length articles. Therefore, QZ provided concise snapshots of the day's biggest stories.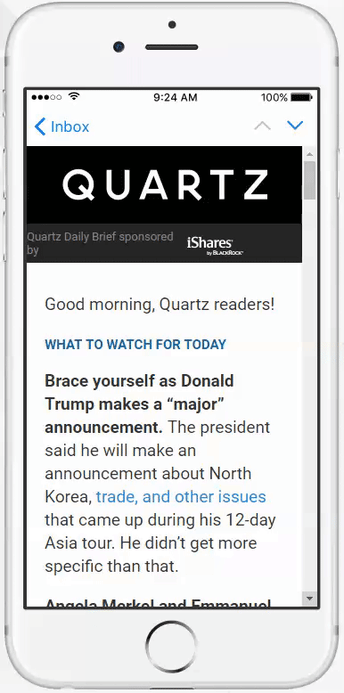 This is an example of the first part of seamless integration - fitting into the lives of the target audience at hand. In this case, the target audience is a business executive (someone that reads the news early in the morning).

This process continues throughout the day, as well. The next touchpoint looks something like this:

Around 9 AM, Quartz knows their audience is on their mobile device.

With that, QZ felt that they could do interesting things with brands within their app, because it's "kind of a private channel, a private context."

Their app is a place where users are trying to keep themselves busy, while also learning.

We won't go through each and every touchpoint, but it's imperative that publishers continue to optimize their solutions to the experience of their audience. This is true for both consumer and B2B publishers.

Quartz is a great app for publishers to study when trying to find ways to reinvent their own mobile experience.
The Advertiser

Now, let's consider an advertiser that may also target business executives - BlackRock, Inc.

Because of QZ's reimagined layout, their available ad inventory has already been integrated into the daily routine of their target.

From BlackRock's perspective, they're simply looking for the inventory that will get their ad content in front of business executives.

Quartz needs to figure out what the best BlackRock-brand-experience is for business executives within their content, to which they'll then fill a specific placement.
The result: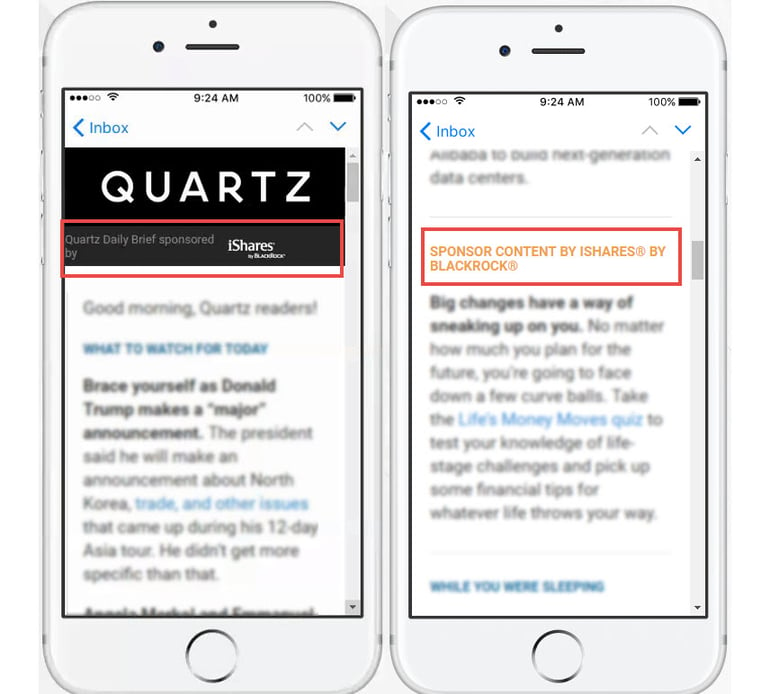 The examples above are within the previously included GIF of QZ's Daily Brief. As business executives move through the site, they'll see BlackRock ads amidst QZ's newsfeed.

For Quartz, their content goes uninterrupted, moving smoothly from one post to the next.

For BlackRock, they've placed an ad in front of their target audience, without disrupting the content provider or the content reader.

For business execs, there is no disruption in their media consumption process - simply a friendly reminder that BlackRock and Quartz are the ones presenting the content that stands in front of them.

What's a simple translation for these 3 points? Seamless.