For publishers and their advertisers, it's become evident over time that there is a perfect middle-ground that needs to be met when producing online advertisements that are fair, clear, and engaging for consumers.

We know that audiences don't like to be bombarded or interrupted with advertising. Ad types like pop-ups and auto-play video ads, for example, have never been popular among consumers, and are often considered "annoying" and "disruptive."

With the rise of native advertising, however, we now know that advertising can actually be too discrete, as well. Why? Because, even though audiences don't want to be disrupted by ads, they also don't want to be duped into believing an advertisement is anything other than what it actually is.

To regulate this middle-ground, the Federal Trade Commission (FTC) released Native Advertising: A Guide for Business in December of 2015.

The release of this guide was right on time, too, as the use of native advertising increased dramatically over the course of 2016.
According to the FTC, their job is to, "ensure that long-standing consumer protection principles apply in the digital marketplace, including native advertising."

In their native advertising guide, the FTC defines what they consider to be deception in advertising:
"Under the FTC Act, an act or practice is deceptive if there is a material misrepresentation or omission of information that is likely to mislead the consumer acting reasonably in the circumstances. A misrepresentation is material if it is likely to affect consumers' choices or conduct regarding an advertised product or the advertising for the product."

"A basic truth-in-advertising principle is that it's deceptive to mislead consumers about the commercial nature of content. Advertisements or promotional messages are deceptive if they convey to consumers expressly or by implication that they're independent, impartial, or from a source other than the sponsoring advertiser - in other words, that they're something other than ads."
To battle ad deception, in their Guide for Business, the FTC runs through the language and layout of how publishers should be disclosing native ads. Within their rundown, there are ten different ways for consumers to identify native advertising.

MediaRadar's analysis of native advertising in Q3 of 2017 showed that only six of those ten FTC identifiers were consistently being adopted. Below is a list of those six identifiers, with creative examples for each, so you can have an easier time spotting native ads.

Six ways to spot native advertising:
1. "Ad" or "Advertisement"
Walmart on Men's Health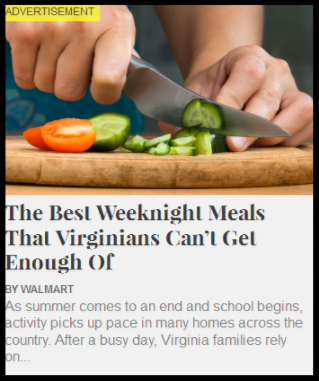 There's no guessing with this one. Many native ads simply contain the word "Advertisement" or "Ad" to let consumers know immediately what they're looking at.

Something that the FTC states within their Guide is that, "Disclosures must be understood." Meaning that, aside from the ad itself, the label on the ad cannot be ambiguous whatsoever either.

The good news here, is that "Advertisement" is as understandable as it gets. As the FTC Guide says it should be, it is written in, "plain language that is as straightforward as possible."
---
2. "Paid Advertisement"
Chase on Eater

If something is disclosed as "Paid," that's always a clear signal of it being an advertisement.

As you can see above, this native ad for Chase includes the disclosure, "Paid Content From Chase." This disclosure is specific, pointing directly to Chase as the ones who are paying, thus eliminating any ambiguity surrounding the advertisement and Eater's content. It's easily understood that Chase is paying to have that image appear on Eater's website.


---
3. "Sponsored Advertising Content"
Microsoft on Popular Science

While perhaps not as on-the-nose as "Advertising" or "Paid Content," seeing that something is "Sponsored Content" points to the fact that the brand at-hand, in this case, Microsoft, has nothing to do with the creation of the Popular Science content in which the ad sits.

In acknowledging that they are a sponsor, they are acknowledging the fact that they are simply allowed to sit alongside Popular Science's content, as someone who has paid to be there, without any inference of contributing otherwise.


---
4. "Presented by"
Siemens on Politico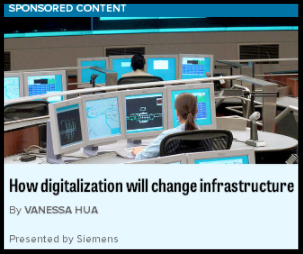 Another phrase to look out for is "Presented by." The native ad above is from Politico, and is "Presented by Siemens." The ad was hosted on Politico. Content that is "presented by" an advertising brand simply refers to that brand attaching their name to content created by the publisher.

This is the first of the "by" terms. "Presented by," is synonymous with "promoted by" and "sponsored by" (See below).


---
5. "Promoted by"
Geico on Buzzfeed
The inclusion of the word "by" is a way for native advertisements to be a bit more specific and separate the advertising brand (Geico) from the publisher (Buzzfeed).

The FTC states that disclosing an ad as just "Promoted" or as "Promoted Stories" can imply to consumers that the content is endorsed by the publisher site. Hypothetically, if the example ad above were to only say "Promoted," one might think that Buzzfeed is endorsing content from Geico.


---
6. "Sponsored by"
Intel on CIO Mag

Content that is "Sponsored by" a brand is another way to identify a native advertisement. And as previously mentioned, this is synonymous with content that is "presented by" and "promoted by." It's simply a choice of language.

Even though "Sponsored," "Presented," and "Promoted by" all technically mean the same thing, a big point in the FTC's guide is for publishers to use consistent language across all of their native advertisements. If a publisher uses the phrase "Sponsored by" in one ad spot, they should use the same disclosure elsewhere, as well.