The Connectiv CEO Summit is a yearly executive retreat that brings together top leaders in the B2B media space. The event is held for CEOs, Presidents, C-Suite teams, Senior Executives, and entrepreneurs from business information, software, and technology companies, to gather and discuss how to raise the industry to the next level.

The 2018 Connectiv CEO Summit was held in New Orleans, Louisiana. Sponsors consisted of leaders in the B2B and media space:

Among those sponsors were many great speakers and thought leaders, presenting data and insights to show how the B2B market is changing, and how media and sales companies can position themselves for success in a more tech-driven infrastructure.

Much of the event's focus was on the change in buyer habits and the inclusion of data and tech into everyday sales environments. Among more than a dozen presentations, however, there were plenty of diverse insights to take away from the event.
4 Takeaways from the 2018 Connectiv CEO Summit
1. Buyer behavior is changing.
Steve Bookbinder, co-founder and CEO of Digital Media Training posed the following question to his audience:
The world has changed. Sales and marketing have changed. But have you?
In his presentation, Bookbinder pointed out the many reasons why the sales landscape has changed so much for sales teams, backed by a multitude of statistics:


94% of B2B buyers conduct some degree of research online before making a business purchase, with 55% conducting online research for at least half of their purchases.
It takes an average of 18 calls to actually connect with a buyer.
Only 24% of sales emails are opened.
90% of top performing sales people now use social media as part of their sales strategy. And for sales reps that invest in social media, 64% of them hit their team quota - compared to only 49% of reps hitting their team quota that don't use social media.

Half of revenue is influenced by social selling in 14 common industries, including computer software, healthcare, and marketing and advertising.

These statistics show a few things, but more than anything, show that buyer behavior is changing drastically in a world fueled heavily by social media and tech. The most important things for sales teams to do, B2B and otherwise, is to make sure they are properly adapting to the changes in the market itself.

Bookbinder suggested that sales teams take a more personal approach to prospect interaction, citing email, social media, phone, and networking events as great ways to personally relate to and engage potential clients.

"Selling is a competitive sport - we're all racing to improve," said Bookbinder. Whether it is through email, on social media, over the phone, or elsewhere, he believes that sellers need to focus most on their words, time, and optimization to adapt to changing buyer behavior in the media industry.
2. Data scientists drive revenue.
Dennis Hecht, Director of Business Intelligence at Farm Journal Media, began his presentation with an overview of the history of the company.

The key to their lasting success? Data.

The Farm Journal was founded in 1877 by Wilmer Atkinson, a Philadelphia Quaker farmer, who sought to give "practical advice to improve the livelihoods of farmers living within a day's ride of Philadelphia." Today, just over 140 years into the mix, however, Hecht referred to The Farm Journal as, "an omni-channel information company," and said that other companies must shift to a data-driven business model.

According to Hecht, data science is, "a concept to unify statistics, data analysis and their related methods in order to understand and analyze an actual phenomena with data." And in case anyone was wondering why they should incorporate data science into their business, Hecht included a quote from Nick Fell, CMO of SABMiller:
"Opinion against opinion, seniority wins.
Opinion against data, data wins.
Data against data, the best data wins."
Hecht says that this is why everyone should be using data science. Simply, to win.

In a sense, the point is that data cannot be refuted, and better data even more so. In a simple sense, it is a way to put opinions aside and use only real, number-driven proof to analyze your results and optimize your strategy for the future.

Data science allows media companies to more efficiently solve problems, save time, and generate more revenue through better analysis, accuracy, and process optimization.
3. The Digital Revolution is underway.
Byron Matthews, CEO of Miller Heiman Group, gave a Keynote speech on "Creating a Culture of Growth" in the B2B media industry.

Matthews again discussed the state of change that media organizations currently find themselves in. He referenced what some are saying is the fourth rendition of the Industrial Revolution - what's known as The Digital Revolution.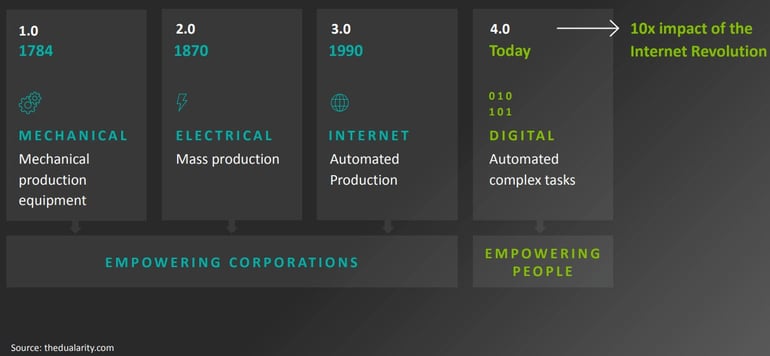 When discussing the impact of The Digital Revolution, Matthews said that it's impact is ten times that of The Internet Revolution that took place in the 1990s. That, of course, signifies a massive need for companies to put the necessary people, processes, and technology in place to flourish in today's digital-first market.

Matthews said that in the past, selling was simple. It was a matter of discovering needs, and selling a solution. Now, however, he says that sales teams must bring value to their clients' world by adding perspective backed by analytical support, actionable insights, and relevant content.

Lastly, Matthews stressed the importance of sales enablement in today's sales landscape, saying "technology has the promise of reducing tedium." What he means by that, is that you can spend less time on tedious tasks, and spend more time actually selling thanks to technology. Sales enablement tools could be the way for organizations to grow and flourish during the Digital Revolution.
4. 50% of B2B advertisers may still be buying restricted ads.
MediaRadar Co-founder and CEO, Todd Krizelman, presented on Google Chrome's latest ad blocking updates.

In his presentation, he noted that, of the 28,892 advertisers that bought digitally with B2B Media during Q1 of 2018, roughly 50% of them bought an ad that Google Chrome is now beginning to block.

He also discussed the fact that most B2B publishers do not worry that Chrome's latest updates will hurt their business, but they should, as many of them are, in fact, running ads restricted by Google.

Just as it goes for the sell-side, B2B advertisers also need to increase their focus on adapting to the growing market, and increase their focus on the types of ad inventory available to them.

The overall takeaway from Connectiv CEO Summit 2018 was that the B2B Media landscape is changing very quickly. It's becoming very digital, very fast, making it important that media companies adapt sooner rather than later.