Advertiser spend on native advertising continues to rise, and it's become one of the most popular ways for advertisers to truly engage with their audience. It's no longer a matter of "if" for publishers when it comes to integrating native ads into their content.

In 2017, native advertising spend was more than any other form of display advertising.

We're beginning to see native advertising in many offline environments, as well. On top of the multitude of formats native advertising appears in online, we've seen native ads on the subway, at sporting events, and in many other offline environments.

The main fact is, native advertising is weaving its way into every form of consumable content, online or offline.

But, what's causing advertisers and publishers to adopt?

There is a great variety available to advertisers when placing native advertisements. For one, there are many ways for a native ad to fit into a piece of content. There are also a lot of different types of content to advertise adjacent to, creating even more options.

Typically, native advertising garners higher engagement from viewers, as well.

Native ads are integrated into the places where users are already engaged in content that they like or desire. Therefore, they'll be more inclined to interact with other forms of content in that environment.

In considering this upward trend, we wanted to look at the unique innovation that we've seen in the world of native.
So with that, let's take a look at 4 innovative trends in Native Advertising:
1. Video
Of course...

Video has become the trend within most other trends. As new forms of ad inventory become available and increasingly popular (i.e. Snapchat), video often seems to be the thing pushing those new forms of inventory to prominence.

Native video advertising appears mostly on social media platforms, but may also be seen on YouTube and other video-sharing platforms.
Facebook is the best example of high adoption in native video advertising. Zuckerberg and Co. have long been focused on putting forth the best mobile product for users, but now video looks like it could be the next major trend that Facebook takes on.

Autoplay ads and live streaming videos on Facebook and other social platforms have added a whole new element to video advertising, as well, giving brands the ability to not only get in front of users, but have their ad run without question.

Native video is also the best way for advertisers to utilize sharable content. Videos, more than anything else, can go viral in a matter of seconds. And as we've seen on YouTube, one video ad can attain an incredible amount of reach.

Generally, video better engages viewers, as does native. Putting the two together seems like a no-brainer.
2. Social Media
We've already touched a bit on this one, but social media is also playing a major role in the rise of native advertising - not just for the sake of video either.

On any social media platform, our feeds are filled with a variety of content. That only creates more options for ads. For example, brands can use in-feed ads to send users to a number of different places, like articles, blog posts, and more.

Social media advertising in general has given brands an increased opportunity to show their personality behind the products or service they hope to sell. Now, more than ever, brands need consumers to buy into their humanity and their product.

As social media users become attached and engaged with their feeds, however, they'll become attached to the content put forth by advertisers.


3. Mobile & In-app
Mobile accounts for roughly 60% of all internet traffic now. A lot of that time is spent online within mobile apps - in large part due to the use of social media.

There's been an overall heightened focus on mobile in recent years for advertisers, and native advertising is no different. Both mobile and native continue to grow, and continue to better engage viewers. Vertical video, a major mobile advertising trend, has become an important native advertising format, as well.

And while social media is the most notable example, native advertising is highly incorporated in other mobile publisher content - Quartz being a terrific example.

App or no app, most publisher's offering mobile content have added native to their inventory.

In-app native ads come in many forms. From the simple style of Facebook's social media feed, to fun Snapchat filters, to Spotify display ads, the native advertising present within apps versus other medias is perhaps the most innovative.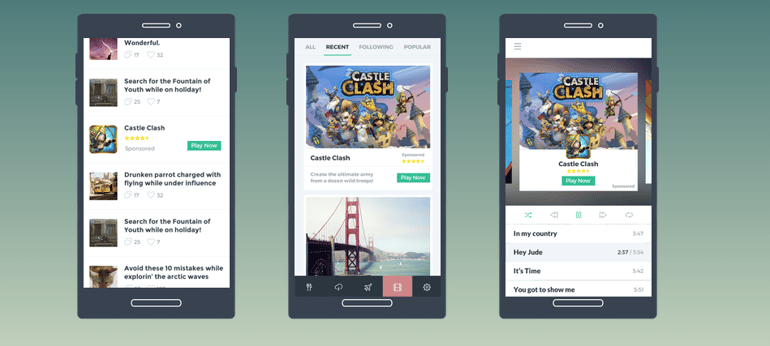 4. Transparency
Native advertising has played an interesting part in the discussion surrounding transparency.

While native advertising tends to better engage the audience, anyone that feels duped by an advertisement will certainly not have a good affiliation with that brand.

That's why the FTC has specific laws in place, requiring native advertisers to let viewers know that they are, in fact, looking at an advertisement. While that is obviously fair and necessary, more than anything, native advertising keeps the conversation of transparency moving in the right direction.

With such innovative ways of living within content, native advertising can never be too native, and that is the general point.

This is a major point of innovation. Native advertising allows brands to live within content without disrupting the experience of the consumer. At the same time, each consumer is fully aware that what they're looking at is an ad. That is an impressive level of integration paired with a high level of transparency.